Since 2009 there have been many cases of fungicide resistance in many pathogens, affecting many kinds of crops across most grain growing regions. But Queensland was able to hold off! We even had laboratory detections from Queensland samples* but still nothing solid in the paddocks…. Until now.
From a collaboration between CCDM's Kejal Dodhia and Fran Lopez-Ruiz with NSW Department of Primary Industry's Steven Simpfendorfer, this team discovered wheat powdery mildew with resistance to QoI fungicides coming from last year's wheat crop.
Collecting and analysing diseased wheat leaf samples from six different Queensland locations, they found five out of six contained pathogen mutations that confirmed fungicide resistance to QoI fungicides.
And in more bad news, all six locations contained pathogens with mutations that have been associated with very high levels of resistance to DMI fungicides such as propiconazole and prothioconazole.
While this reduces the options available for controlling wheat powdery mildew, all is not lost.
Queensland growers have the advantage of leveraging off the lessons learnt from fungicide resistance of the past, thanks to at least 14 years of research under our belt, phew.

The Queensland data – what we found where
As the story goes, Steven Simpfendorfer noticed a lot of powdery mildew on wheat last season, so collected some samples and sent them over to CCDM laboratories to get them tested for fungicide resistance. Following strict biosecurity guidelines from a DPIRD permit, Steven sent over 10 samples from six locations (with four of them duplicated), which we then tested for mutations connected to both DMI and QoI resistance.
Five out of six locations tested positive to resistance to QoI fungicides.
All locations tested positive to the mutations associated with resistance to DMI fungicides.
This map shows the nearest towns to where the 10 samples were collected, with the markers in orange representing fungicide resistance to QoI fungicides: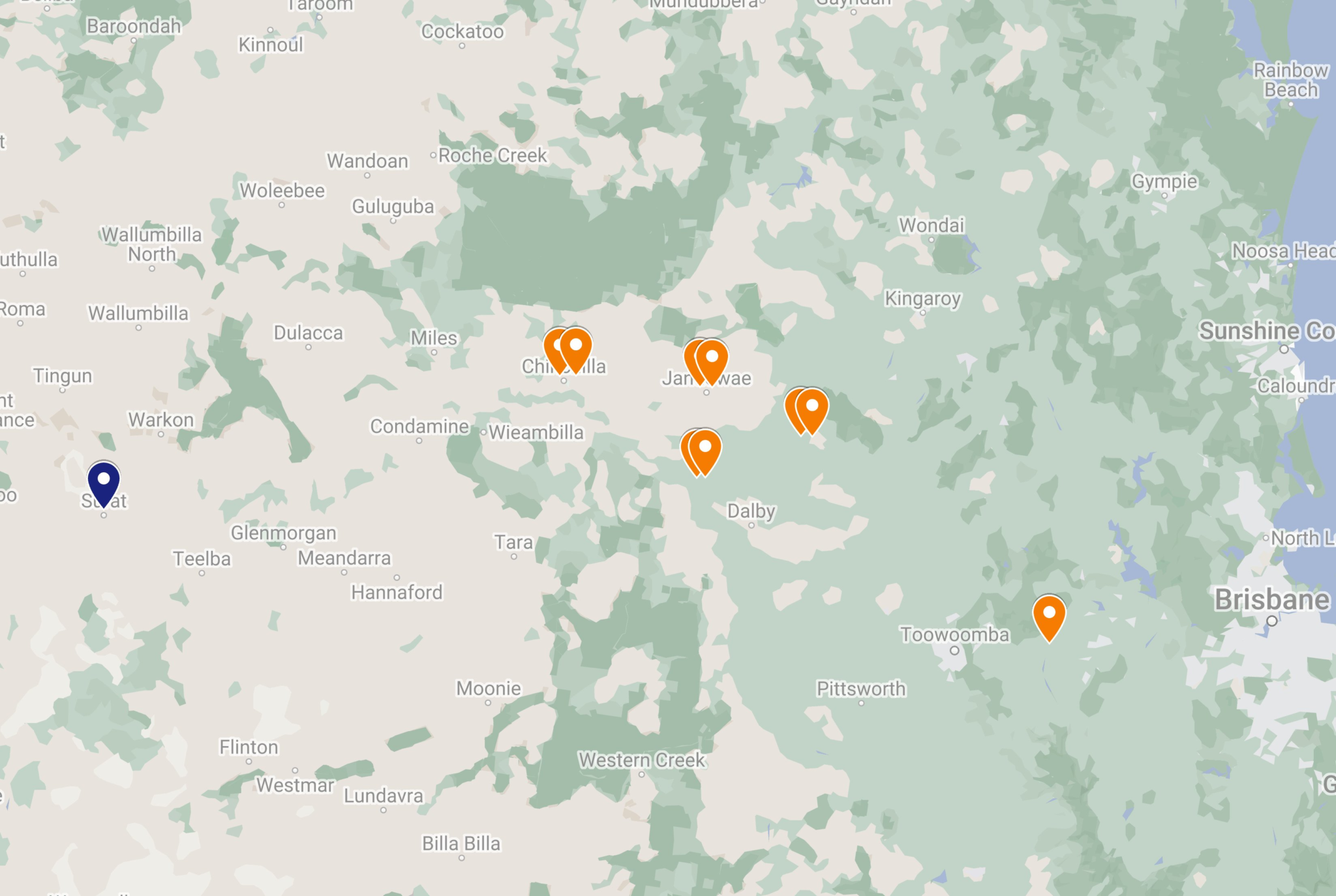 Map showing the nearest towns to where the 10 samples were collected. The orange markers to the East were samples that tested positive for fungicide resistance to QoI fungicides. The blue marker is the only sample that tested negative for fungicide resistance against QoI fungicides. All samples tested positive to the mutations associated with resistance to DMI fungicides.
Here is a graph showing the percentage frequency of resistant powdery mildew pathogens on wheat to both DMI and QoI fungicides from the ten Queensland paddock samples:
According to Kejal, the high frequency of the DMI resistance mutation in the pathogen population in all the samples is a good indication that the mutation may have been taking over Queensland paddocks for a number of years.
On the other hand, the mutation for QoI resistance is a lot lower in frequency, indicating this is a relatively new change to Queensland's pathogen population, or that growers use less QoI than DMI fungicides to control wheat powdery mildew.
Kejal says this means it's more important than ever to act early and implement fungicide resistance management strategies to ensure the levels stay low.
An updated map on fungicide resistance in Australia
Thanks to this discovery, we now have two new dots on the map! This map shows the presence of resistant (R), reduced sensitive (RS, resistance that does not reach the level of field failure) and laboratory resistance detections (L) in fungal pathogens in regions of Australia to specific fungicides within different modes of action.
What a wheat grower can do about powdery mildew in the coming season.
Unfortunately, when a disease is resistant to two of the most important fungicide groups, it doesn't leave a lot of chemical management options.
The Australian Fungicide Resistance Extension Network (AFREN) has identified five key actions aimed at avoiding and managing fungicide resistance in any crop and region:
Avoid susceptible crop varieties
Rotate crops – use time and distance to reduce disease carry-over
Use non-chemical control methods to reduce disease pressure
Spray only if necessary and apply strategically
Rotate and mix fungicides/MoA groups
For an AFREN factsheet on management of wheat powdery mildew, click here

If you have run out of options for its control, then read this!
Due to the widespread discovery of fungicide resistance to both DMI and QoI fungicides in 2022 in Queensland, NSW, Victoria and South Australia, we've been participating in discussions and provided technical support to Grain Producers Australia and Australian Pesticides and Veterinary Medicines Authority (APVMA) over the options for managing this disease.
These discussions have led to the issue of some emergency permits for the use of active ingredients quinoxyfen and proquinazid (Group 13), and metrafenone (Group 50). These two different modes of action have specific activity on mildews.
Now growers have additional tools to manage this tricky disease!
*A few years ago there were laboratory detections of fungicide resistance in barley powdery mildew in Queensland. The mutations found in that occasion had been previously associated to DMI resistance in WA. Fortunately, no fungicide failure field reports have been received to date.